What Is Bitumen Decanter? How A Bitumen Decanter Works?
2021-12-28 Anant-Premium Petro Products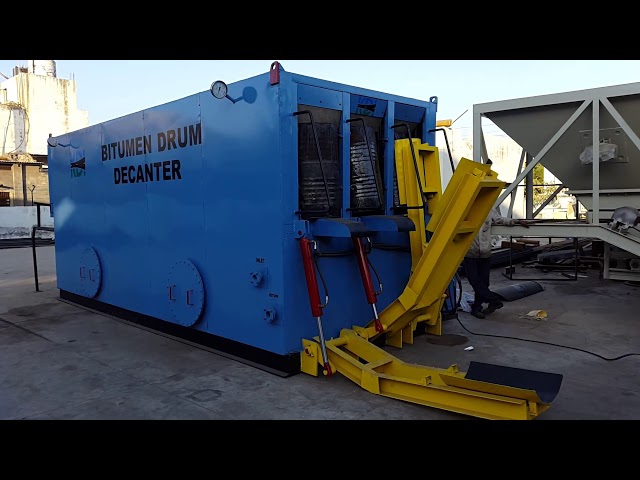 What Is Bitumen Decanter? How Bitumen Decanter Works?
Bitumen decanter,commonly known as Bitumen Melting Machine/Bitumen Melter, is a facility used to melt solid Bitumen from barrels by cycling and transmitting heat via thermal oil.
Asphalt factories use liquid Bitumen to make an asphalt mix and other industrial products.
The barrel entry modes determine the varieties of Bitumen decanters. The method of feeding drums into the melting chamber varies depending on the Bitumen decanter.
Furthermore, the time it takes for barreled Bitumen to enter the melting chamber is one of the most critical elements affecting the equipment's output capacity.
At Premium Petro products, we have burners with a capacity up to 29000K tons. Each dual fuel burner can work on oil and gas and comes equipped with hydraulic power packs and thermal fluid heaters. Rest assured, our decanting plants are safe, fuel efficient and minimizes the loss of bitumen when heating it up.
Bitumen is used in building and maintaining bituminous pavements in many forms. Since Bitumen is a thermoplastic and a semi-solid, viscous substance, it is not always workable in its normal form at ambient temperatures.
There are three options for converting it into a usable format. These methods include: 1. Heating 2. Mixing with petroleum solvents to produce cutbacks 3. Emulsifying in water to form Bitumen emulsion
Why do we need to decant?
To create Bituminous concrete (commonly used in road construction), hot Bitumen is heated till the liquid form has the desired consistency. Storage tanks capacities for hot mix bitumen are low at construction and plant sites; contractors prefer to store sufficient bitumen in the packed form at the plan sites. They convert it into bulk form through in site decanters.
FAQs
RELATED TO COMPNAY
RELATED TO ORDER
RELATED TO BITUMEN
Q.
Do you import Bitumen or Purchase Domestic?
We import Viscosity Grade bitumen directly from top refineries of Middle east countries packed & bulk both forms& provide to clients at reasonable price. Refineries specially produce bitumen with our label too.
Q.
Are You PWD Empanelled?
Yes, we are authorized by PWD govt. of Raj. & Uttarakhand for quality bitumen.
Q.
Where do you supply Bitumen?
We supply Bitumen from Kandla, Mumbai, Mundra, Jaipur, Jodhpur, Pipavav, Vadodara, Hazira & so on.
Q.
Do you Export Bitumen?
Yes, we export Bitumen& we are no. 1 Bitumen Exporter in India in December 2021 and Jan 2022. We are the 3rd Largest Importer in packed bitumen category in India. We have pack drums available in 156kg & 180 kg. We export bitumen packed & bulk both forms. We export bitumen in Nepal Birgunj, Biratnagar, Bhairahawa, Nepalgunj, Kakarvitta and Still Going!
Q.
Where is your Head Office?
We are located in Jaipur (Raj.) since 2017 Near PWD Office.
Q.
What Grade or viscosity Bitumen do you supply?
We supply VG10, Vg30, VG40 in Bulk & drum both forms PAN India.
Q.
How long does it take to process the order?
After getting confirmation of an order, we proceed the order further & upto24hours-48hourswe dispatch the order.
Q.
Does the Prices are inclusive transportation Charges?
We quote Bitumen price only, but we can arrange transport for buyer separately.
Q.
What is the mode of payment?
We accept Payment Through Bank Transfer, BG (Bank Guarantee), LC (letter of credit) by government approved Financer/ Bank.
Q.
What is Bitumen Terms of Delivery?
We can Provide FOB shipments/Ex Port, CFR (Cost Freight Rate), CIF (cost Insurance & freight)
Q.
What are the benefits / advantages of VG Bitumen over Penetration Grade?
VG bitumen is globally preferred to penetration grades (30/40, 60/70, 80/100, and soon), mainly because it is tested and classified more accurately.
Q.
Do we have a ready-made chart to use various Bitumen Grades as per the temperature zones?
Yes, we have chart or test reports of every shipment as per viscosity, Penetration, Grade temperature & require product details.
Q.
How would you assure about the quality of Bitumen?
Our Bitumen is certified by Refineries & NABL& IIT Roorki laboratory also. We have in house Laboratory also & we do test of every shipment.